COUNTRY SPECIAL
INTRODUCING INDONESIAN PRODUCTS IN FRANCE
La Maison De L'Indonésie collaborates with the biggest gastronomy school in France to introduce Indonesian products.
12.11.2021
BY HANUM FAUZIA
Indonesian products are still not widely known in France. That's why La Maison De L'Indonésie would like to promote Indonesian flagship products through its events.
Since a year ago when La Maison De L'Indonésie (Rumah Indonesia) was established, there have been a lot of events held by them. They promote Indonesian products curated and tested by the La Maison De L'Indonésie (LMDI), such as Indonesia's coffee, chocolate, and traditional drinking from spices (jamu).
One of strategy that LMDI has done is collaborate with gastronomic education institutions in France. It started with Ferrandi as the most significant school for almost 101 years and became a gastronomic school producing famous Michelin chefs in France. Ferrandi is a school that is under of French Chamber of Commerce.
It's been honored for LMDI to bring the name of Indonesia and be able to do a partnership with schools such as Ferrandi because it's not easy to join a program in a prestigious school such as Ferrandi.
On November 10, 2021, LMDI gave a presentation class about Indonesia's coffee, chocolate, and spices, and also created Indonesian Coffee Cupping Demo that has roasted in France, tasting chocolate from Indonesia that made by JIKA Chocolate from Indonesia, and tasting turmeric herbal drinking that produced by Acaraki.
Next November 18, 2021, La Maison De L'Indonesie will give a presentation class at Ferrandi patisserie and gastronomy class, and they will introduce fermented fish or shrimp paste (terasi), chocolate, moringa, sago, and palm sugar.
Founded in Paris in August 2020, La Maison De L'Indonésie (House of Indonesia) has a vision and mission to promote Indonesia through quality products in France. Starting from Chocolate, Jamu, Moringa, and wellness and spa products.
In addition to introducing products from Indonesia, La Maison De L'Indonésie also established its own Roasting House in Paris to produce Nusantara coffees from Gayo to Papua and sells under the La Maison De L'Indonésie branding in the form of roasted beans, ground coffee, and biodegradable coffee capsules, the first in France.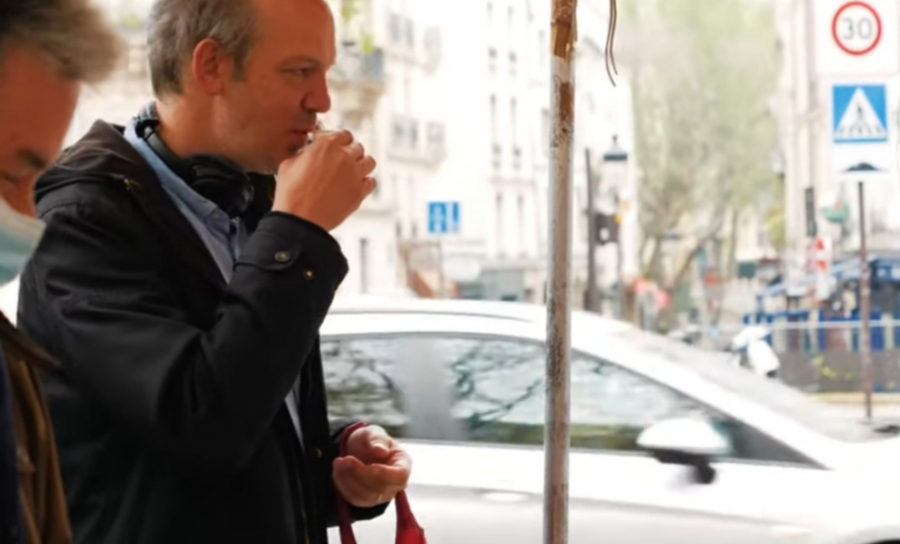 Even though France has also set a continuous lockdown from December 2020 until May 2021, the promotional project from La Maison De L'Indonésie continues, through e-commerce or online promotions, all opportunities continue to be penetrated to introduce Indonesian products in France.
With hard and unyielding efforts, finally, La Maison De L'Indonésie got the opportunity to promote and sell Indonesian products in one of the well-known and famous markets in Paris, Pasar Maubert, located in Paris 5 arrondissement, not far from the Notre-Church. Dame and the Pantheon, and the famous French university, Sorbonne University.
It is not easy to get a place in the market in Paris, because of the long and complicated administrative procedures, and priority is usually given to local French traders. Especially in pretty elite areas, because they are very selective in choosing quality products. It is an honor for La Maison De L'Indonésie to pass the selection and get permanent permission to have a stand at Maubert Market to showcase Indonesian products.
This is a breakthrough to enter the French market and bring Indonesian products directly to local French consumers.
Saturday, May 1, 2021, is the first day for La Maison De L'Indonésie to be present at the Maubert Market, introducing Indonesian coffees, Free Testing of Jamu Kunyit and Ginger, Free tasting chocolate, and of course showing Indonesian gastronomy through sold-out Fried Rice and cakes. Many market visitors also like Dadar Gulung.
Even though the status in Paris is still on lockdown and holidays, market visitors are pretty busy, and the presence of the La Maison De L'Indonésie stand makes this local Paris market more lively. Many visitors are interested and have never known about Indonesian products, and through this showcase, they now know about coffee, chocolate, herbal medicine, and others.
#THE S MEDIA
#Media Milenial
#La Maison De L'Indonésie
#Indonesia product in France
#Rumah Indonesia