STORIES
TOP 5 FREE HIDDEN GAMES ON GOOGLE YOU CAN PLAY
Relieve your stress with top 5 hidden games you can play on Google. Did we say that they're free?
21.02.2022
BY JACKSON KEEFE
It is easy to get stressed out and bored at work, especially in the middle of a pandemic. But, getting yourself relaxed and charged up is also easy, what requires to achieve such state-of-mind is to find the right entertainment, and video games are one of the many things you may go with to fill the void.
If you take five minutes break from mentally taxing activities and play video games, your mood will improve! Science says that. A computer science professor at the University of Saskatchewan, Regan Mandryk's latest research shows that video games can help with reducing stress and even improve mental health.
Therefore, without further ado, we have prepared you with the top 5 free hidden games on Google, and how you can access them.
Dino Game
The first game is the crowd-favorite and all-time favorite Dino Game or Dinosaur. The premise of the game is simple, you play as a T-Rex, running around, jumping cactus, avoiding birds, and achieving the highest possible score you can get. Easy and straightforward.
Google developed this game and built it into Google Chrome web browser just in case you have a poor internet connection. Mainly there are two ways to access this game. The first way is, you can get yourself disconnected from the internet, open Chrome and you are all set. Otherwise, you can keep connected with the internet with the second step by typing "chrome://dino" in the URL bar, press enter and it will redirect you to the game page.
Play Snake
Play Snake is a game where you control a snake to eat its food. The more food you eat, the longer your snake will get. Food also serves as score points, so the more you eat the higher your score will be. The game ends when you hit the wall or if you hit any parts of your snake body.
To play this game you only need to enter "Play Snake" on the Google search bar and at the very top of the search results, click "Play" with an inviting blue-colored bar.
Pac-Man
Pac-Man is another classic game brought closer to you by Google, which you can also play for free. Pac-Man is a classic arcade game and the game was recreated as a Google Doodle all the way back on May 21, 2010, to celebrate the game's 30th birthday.
Pac-Man is played by eating dots on the screen but watch out for ghosts, they are not nice. You can them a lesson or two if you manage to get yourself a power-up.
The game is accessible by entering "Pac-Man Google Doodle" on the search bar and click "Play" to play the game.
Space Invaders
Space Invaders is another classic game that also you can play for free on Google. The formula is similar to the above, but make sure to enter "Google Space Invaders" to play Space Invaders.
Solitaire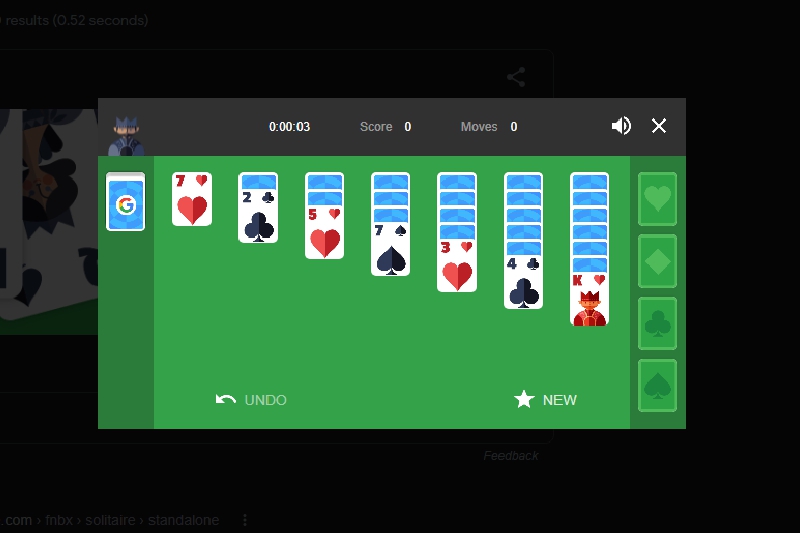 There are two Solitaire games you can play, the first is Solitaire Classic and the second is Solitaire. Just search on which game you wanted to give a try and you are good to go.
There you have it, our picks of top 5 free hidden games on Google. Keep in mind, video games can be addicting, just a friendly reminder.
#THE S MEDIA
#Media Milenial
#Google
#Video Games
#Free